Zoetemelk: best Tour rider of all time
---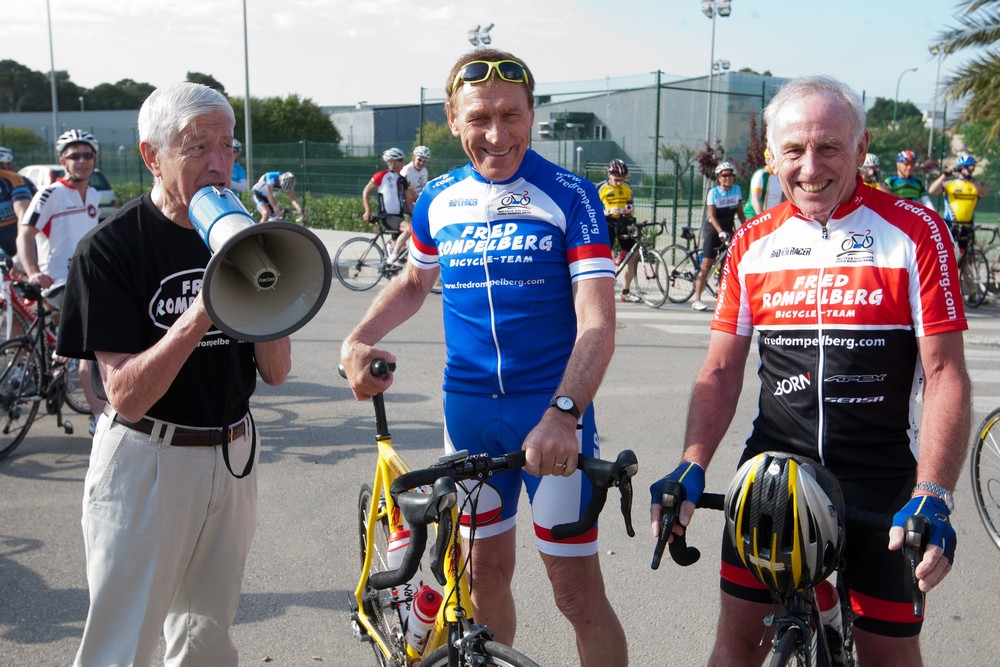 On the photo:
Dries van Agt, Fred 268 km and Joop Zoetemelk with us on Mallorca.
This year 2020 is exactly 40 years ago that Joop Zoetemelk won the Tour de France in 1980. Side by side with Gerrie Knetemann, "Joop" wrapped in the yellow jersey rode cheering across the finish line on the Champs Elysées. Tens of thousands people were very enthusiastic.
Tour de France
---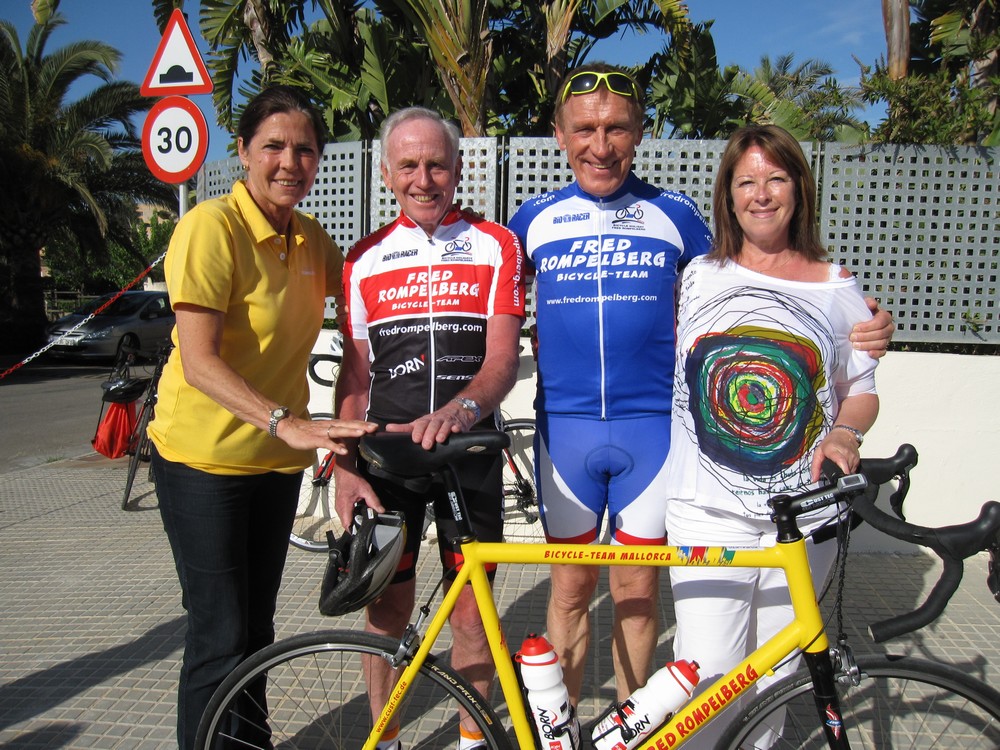 On the photo:
Tiny Rompelberg, Joop Zoetemelk, Fred 268 km and Joop's wife Daniele Pouille with us on Mallorca.
Joop Zoetemelk can be seen as the best cyclist of the Netherlands has ever known. Zoetemelk is also the best rider in the history of the Tour de France. Following the simplest calculation that can be made for this. If you give every rider from the top ten points from place 1 (10 points) to place 10 (1 point), Zoetemelk has a glorious 90 points a street length ahead of all other Tour stars from the 117-year history of La Grance Boucle. Even if Lance Armstrong had been allowed to keep his seven Tour victories, he would not have come close to Joop Zoetemelk with 78 points according to this table.
The four riders who have won the Tour de France no less than five times, Jacques Anquetil, Eddy Merckx, Bernard Hinault and Miguel Indurain, are also nowhere near Zoetemelk. In fact, the eternal number two Raymond Poulidor (76 points) and mountain king Lucien van Impe (70 points) score even better.
This score was drawn up by the well-known journalist Raymond Kerckhoffs.
Rivalry
---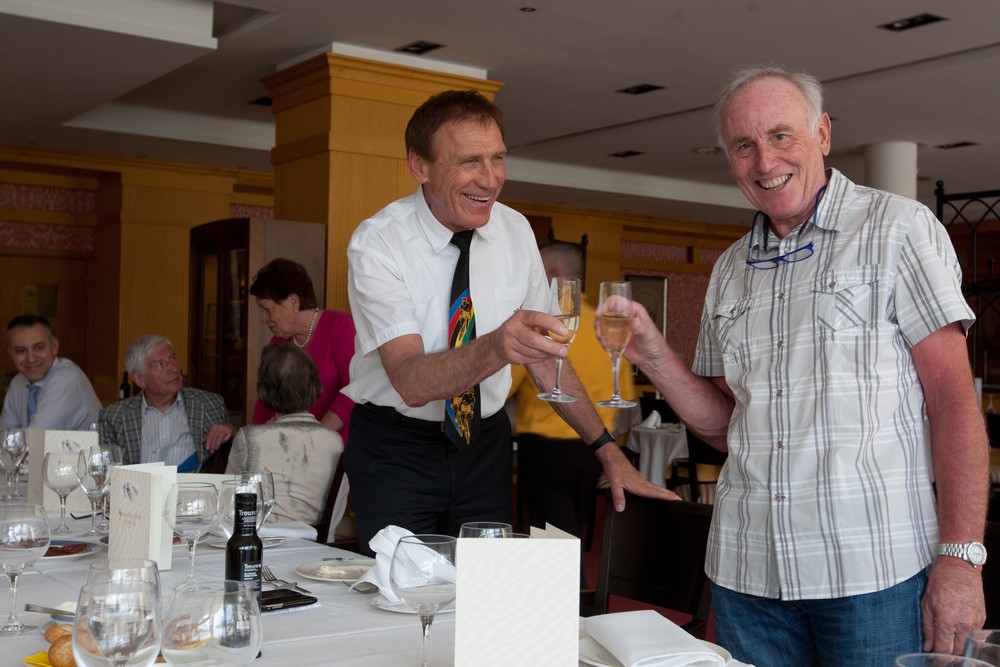 On the photo:
Fred 268 km and Joop Zoetemelk.
The ranking below proves that Zoetemelk is the best rider in Tour history based on regularity in the rankings. He is unfortunate that he encountered two super champions in his career. First he had to compete with Eddy Merckx and then with Bernard Hinault. Of course this is only a list and there are also other rankings to be made as Geert Dekkers did on his website:
http://www.louison.dds.nl/Beste2019.html
Jacob Bergsma (author of the book "Ongezien" about Joop Zoetemelk) sent us various statistics that underline the unprecedented achievements of Zoetemelk in his career. Although Sylvain Chavanel is the record holder with 18 Tour participations (he dropped out twice), Zoetemelk with his 16 Tour participations (each time he reached Paris) drove more than 2000 more Tour kilometers than Chavanel. Joop climbed a total of 901 mountains in the Tour and was the first to climb 23x. In the Tour alone, he bridged a height difference of almost 700 kilometers (!).
Career
---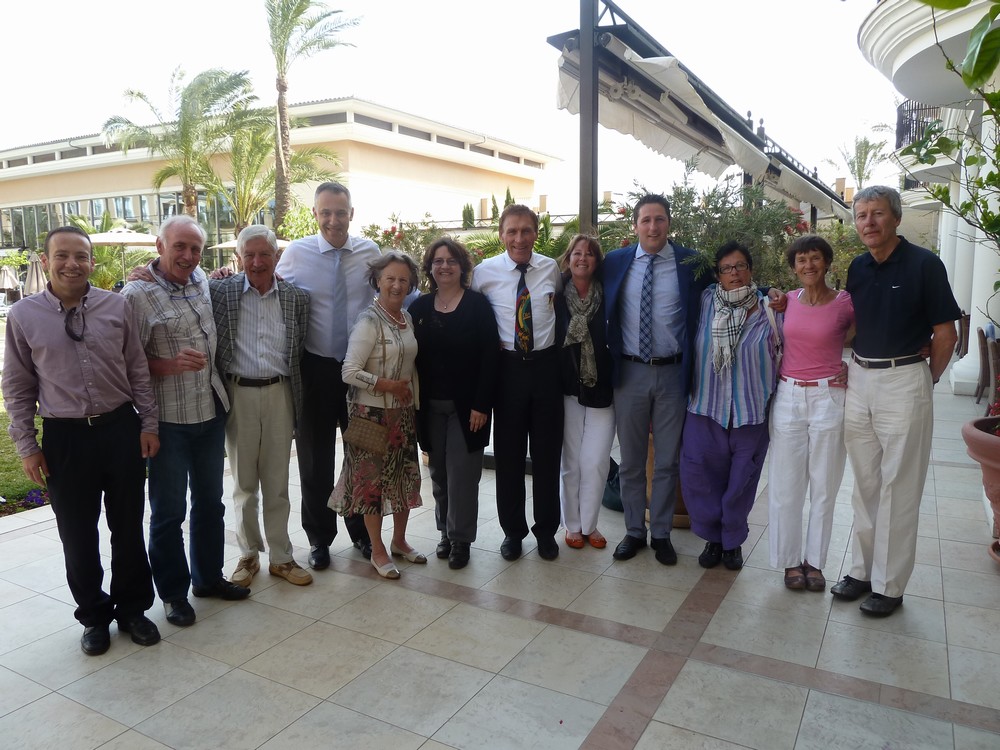 On the picture from left to right:
Fernando Gonzales sales manager Grupotel hotels, Joop Zoetemelk known of among others winner of the Tour of France, Mr. Dries van Agt former Prime Minister of the Netherlands, Alex Alzamora director of Grupotel Taurus Park, Mrs. Eugenie van Agt, Margareta van Leeuwen of the Embassy Spain, Fred 268 km, Miquel Bosch, former director of Grupotel Playa de Palma Suites & Spa, Roos Janssen, Carla Beurskens, world record holder for athletics and Jac Roemerman former cyclist.
Throughout his career, Zoetemelk had 2,695 race days, of which he finished no less than 31.4% in the top three. He rode 328 time trials, of which he won 53 (28 individual time trials and 25 team time trials). In no less than 37.5% of all his time trial, he finished in the top three. So on average he finished more often in a time trial than in a road race on the podium.
It is also a myth that Zoetemelk goes into the history books as the eternal second. He won no fewer than 431 games in his career and finished "only" 293 times.
Zoetemelk is number one on the eternal ranking of the best Tour riders of all time. Joop Zoetemelk has already been with us during our Cycling sports holidays in Mallorca and this year Joop would also come with his wife Daniele, but this has been postponed by Covid-19 to 2021. Soon the fantastic cycling book 'Ongezien' can be ordered via this website.
Best Tour Riders of All Time:
Joop Zoetemelk
6×9, 1×5, 3×6, 1×10, 1×3 = 90

Lance Armstrong
7×10, 1×8 = 78 (his results were taken from the books after confessions of doping by the organization and uci)
Raymond Poulidor
5×8, 1×3, 3×9, 1×2, 1×4 = 76
Lucien van Impe
1×10, 1×9, 3×8, 1×5, 2×7, 1×6, 1×2 = 70
Bernard Hinault
5x 10, 2×9 = 68
Gustave Garrigou
1×10, 3×9, 2×8, 1×7, 1×6 = 66
Eddy Merckx
5×10, 1×9 1×5 = 64
Jan Ullrich
5×9, 1×10, 1×7 = 62
Jacques Anquetil
5×10 1×8 = 58
Chris Froome
4×10 1×9 1×8 =57
Antoine Magne
2×10, 1×9, 1×8, 2×5, 1×4, 1×3 = 54
Miguel Indurain
5×10 1×1 = 51
Nicolas Frantz
2×10, 2×9, 1×7, 1×6 = 51
Greg LeMond
3×10, 1×9 1×8 1×4 = 51
Louison Bobet
3×10, 1×8, 1×7 1×4 = 49
Pedro Delgado
1×10, 1×9, 1×8, 2×5, 1×7, 2×2 = 48
Cadel Evans
1×10, 2×9, 1×5, 1×7, 1×4 = 44
Gino Bartali
2×10 1 x9 2×7 =43
Francois Faber
1×10, 2×9, 1×4, 1×6, 1×2 = 40
Firmin Lambot
2×10, 1×9, 1×6, 1×3, 1×2 = 40
Jean Alavoine
2×8, 2×9, 1×6 = 40
Stan Ockers
2×9, 1×4, 1×6, 1×5, 2×3 = 39
Laurent Fignon
2×10, 1×9, 1×4, 1×5 = 38
Bernard Thevenet
2×10, 1×9, 1×7, 1×2 = 38
Andre Leducq
2×10, 1×9, 1×7, 1×1 = 37
Federico Bahamontes
1×10, 1×9, 1×8, 1×7, 1×3 = 37
Philippe Thijs
3×10, 1×5 = 35
Felice Gimondi
1×10, 1×4, 1×7, 1×9, 1×5 = 35
Alberto Contador
2×10, 1×7, 1×6, 1×2 = 35
Alejandro Valverde
1×8, 1×6, 1×7, 1×5, 2×3, 1×2 = 34
Emile Georget
2×8, 1×7, 1×6, 1×5 = 34
Maurice De Waele
1×10, 1×9, 1×8, 1×6 = 33
Lucien Petit-Breton
2×10, 1×6, 1×7 = 33
Richard Virenque
1×9, 1×8, 1×6, 1×5, 1×3 1×2 = 33
Maurice De Waele
1×10, 1×9, 1×8, 1×6 = 33
Felicien Vervaecke
1×9, 2×8, 1×7 = 31
Raphaël Géminiani
1×9, 1×8, 1×7 1×5, 1×2 = 31
Claudio Chiappucci
2×9, 1×8, 1×5= 31
Carlos Sastre
1×10, 2×8, 1×3, 1×2 = 31
Philippe Thys
3×10 = 30
Sylvere Maes
2×10, 1×3, 1×7 = 30
Lucien Buysse
1×10, 1×9, 1×8, 1×3 = 30
Nairo Quintana
2×9, 1×8, 1×3, 1×1 = 30
Vincenzo Nibali
1×10, 1×8, 1×7, 1×5 = 30
Jan Adriaensens
2×8, 1×7, 1×4, 1×2, 1×1= 30
Ottavio Bottecchia
2×10, 1×9 = 29
Romain Bardet
1×9, 1×8, 2×5, 1×2 = 29
Jan Janssen
1×10, 1×9, 1×2, 1×6, 1×1 = 28
Charly Gaul
1×10, 2×8, 1×2 = 28
Roger Pingeon
1×10 1×9, 1×6, 1×3 = 28
Bjarne Riis
1×10, 1×8, 1×6, 1×4= 28
Andy Schleck
1×10, 2×9 = 28
Hennie Kuiper
2×9, 1×7, 1×2 = 27
Jef Demuysere
1×9, 1×8, 1×7, 1×3= 27
Eugene Christophe
1×9 1×8, 1×4, 3×2= 27
Marco Pantani
1×10 2×8 = 26
Ivan Basso
1×9, 1×8, 2×4, 1×1 = 26
Henry Anglade
1×9, 2×7, 1×3 = 26
Joseba Beloki
1×9, 2×8= 25
Hector Heusghem
2×9, 1×7 = 25
Georges Passerieu
1×9, 1×8, 1×7= 24
René Vietto
1×9, 2×6, 1×3= 24
Leon Scieur
1×9, 2×7= 23
Aimo Bartolomeo
2×8, 1×7= 23
Jean Robic
1×10, 1×7, 1×6 = 23
Andreas Klöden
2×9, 1×5 = 23
Peter Winnen
1×8, 1×6, 1×7, 1×2 = 23
Frank Schleck
1×8, 1×7, 1×6, 1×1= 22
Fausto Coppi
2×10. 1×1 = 21
Alex Zülle
2×9, 1×3 = 21
Gianni Bugno
1×8, 1×9, 1×4 = 21
Stephen Roche
1×10, 1×8, 1×2 = 20
(This list will not be complete yet. If you find more riders who have more than 20 points according to this count, let us know and we will add them immediately: info@cyclingopinions.com)